About us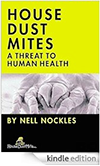 HouseDustMite.com is the creation of the Nockles family. Nell Nockles and her son Edward have been actively researching and communicating the impact of house dust mite allergens for over sixteen years.
Nell, a life long asthma and hay fever sufferer, began her research following a dramatic improvement in her health just by eliminating bed dust mites from her sleeping environment.
Nell was so amazed that such a simple remedy reversed years of suffering, that she felt compelled to find out more and spread the good news. Her recently launched book is available to buy through Amazon.com.