Exposure to house dust mites - an avoidable risk factor for sudden infant death syndrome (SIDS) - is not identified in safe sleep guidelines. This article explains why reducing exposure to house dust mites (HDM), and their droppings, is of equal importance to current common-knowledge recommendations.
A safe sleeping environment is recommended in order to reduce the risk of sudden infant death syndrome (SIDS).(1)

Among the recommendations is to avoid placing sleeping infants on sofas, in parental beds, in bed sharing, on second hand foam cot mattresses or placing them in close proximity to soft toys or loose blankets.

It is also strongly recommended that the following invisible risks are avoided:
Contact with tobacco smoke.
Short-term exposure to air polluted by nitrogen dioxide (NO2) such as in traffic fumes.
Particulate matter less than 10 microns in size.(2)
This final point is of great importance for the house dust mite (HDM), because their droppings can be less than 10 microns in size and, like tobacco smoke, can get into eyes, nose and lungs where they dissolve and release their contents.(3,4)
In some cases doctors have described sudden infant death syndrome (SIDS) to be a catastrophic allergy-like event.(5)
House dust mite and skin scales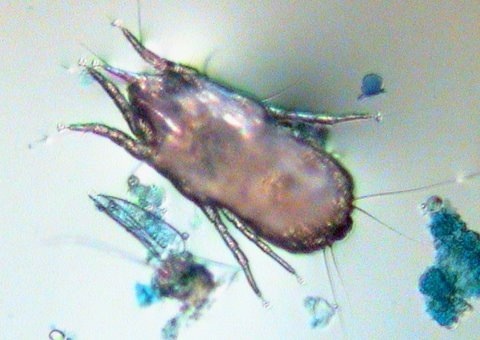 Courtesy of Dr Harry Morrow Brown
Where does the risk come from?
All bedding areas are known as potential nesting sites for a colony of house dust mites if the environmental conditions are still, warm, dark and damp.
Droppings from house dust mites can be less than 10 microns, and are easily inhaled and are known to cause inflammation in the lungs of vulnerable people.
In moist conditions (such as are found in lungs) mite enzymes can be released from a dropping in a matter of minutes.(6)
One of the enzymes, clinically known as Der p1, is powerful enough to dissolve tight junctions between defence cells in the respiratory system causing cell death or harm to defence structures.(7)
The damage increases the permeability of cell defences creating a temporary gateway for bystander proteins or, would-be intruders, including bacteria.(8)
Current safe sleep recommendations make no reference to a potential risk from mite exposure or to an environment that encourages mite growth.(9,10,11)
This is an omission that needs correcting because it can result in a public disconnect from the presence of the mite as an environmental risk factor in SIDS.
How aggressive is the mite's enzyme?
Research shows that both the mite's active digestive enzyme (Der p1) and continine, a derivative of tobacco nicotine, have been found in the amniotic fluid surrounding the foetus.(12,13)
Elements in the fluid are directly exposed to the foetus highly permeable skin, reach into the respiratory tract during respiratory foetal movement and are actively swallowed.(14)
Additionally, research has shown that antigens/allergens from the environment can be transferred to the amniotic fluid to prime (sensitize) T helper cells in utero.(15) Whether the exposure to Der p1 leads to immune tolerance or awareness has yet to be described, but the fact of its presence demonstrates the invasive power of the mite's enzyme.
What studies have addressed this?
As far back as 1975 house dust mites were suspected of involvement in SIDS, however the mechanism of a catastrophic allergic-like event remained elusive to science.(16)
Then, in 2000 Professors RRA Coombs, WE Parish and Dr AF Walls published a hypothesis on SIDS describing a dangerous immune reaction caused by inhalation that they named modified- inhalation-anaphylaxis,(MIA).(17)
They suggested that failure-to-wake during a life-threatening reaction could dramatically alter the symptoms of anaphylaxis. There would be no coughing, no struggle to breathe, no signs of gross emphysema, with death caused by bronchospasm and asphyxia. They believed that MIA could be the underlying cause for some cases of SIDS.
The scientists went further by describing the proposed anaphylactic antibody involved as IgG4, a short-term-sensitising antibody that acts on mast cells and basophils, possibly in the company of IgE. Here it is important to note that in many infants IgE responses to inhaled antigens/ allergens can be slow to develop.(14)
In another paper researchers observed early signs of inflammation in the larynx of some SIDS victims, a condition that could prep the larynx for further hyper reactions, leading to a cascade of events associated with SIDS. Events such as apnoea or immune reactions that mimic anaphylaxis.(18)
There is another important investigation on SIDS to consider, and that is the work of Dr Hannah Kinney at Boston Childrens Hospital who is looking at immature brainstems, the part of the brain that influences the regulation of respiratory control during sleep or the transitions to wake. She is considering this area as a possible cause of failure-to-wake.(20)
No matter what triggers the final event failure-to-wake is an essential element in this dangerous or deadly scenario.
Our conclusion:
The search for the cause of sudden infant death syndrome continues. Until an answer is found the only recourse is to reduce identifiable risks. Excessive exposure to house dust mites, and their droppings, whether identified as an irritant, or cause of inflammation in the respiratory system, is an avoidable risk factor and must be specifically named in SIDS safe sleep guidelines if the guidelines are to be considered sound.