For the Curious
Fabric that blocks house dust mites (HDM)
To search for anti allergy fabric that will act to block house dust mites (HDM) from finding a home follow the description set by a clinical study. The description is also for DIY fabric covers for cushions, duvet covers, or pillow cases, etc.
---
House dust mites (HDM) are small enough to sit on the tip of a pin, yet dangerous enough to cause allergic asthma, rhinitis and dermatitis
The House Dust Mite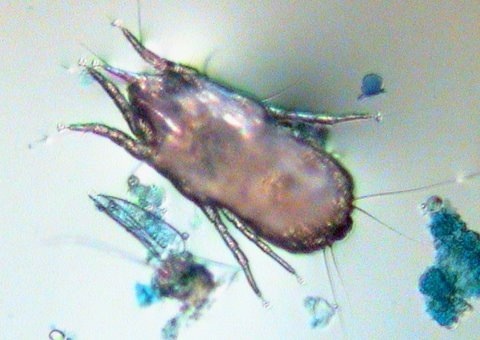 Photograph by the late Dr Harry Morrow Brown and gifted to housedustmite.com
`Exposure to allergy causing house dust mites, also called HDM, is a major health problem worldwide. To stop mites from infesting household items such as pillows, duvets, or cushions the highest quality of anti-mite fabric is required. This fabric was clinically identified as being:
tightly woven
thread count greater than 246 per square inch
pore size of between 2-10m (microns)
allergen impenetrability >99%
resistance to live mite penetration
dust leakage of <4%
air permeability between 2 and 6 cubic centimetres per second, per square centimetre, also described as 'breathability'
Please note: Tightly woven fabrics are derived from twisted cotton or synthetic fibres perpendicular to each other and having either a regular, systematised bi-or tri-axial weaving pattern. To block dust mites from entering a fabric a thread count greater than 246 per square inch is advised. A pore size of 6 is recommend as satisfactory for 'breathability'. Patients with allergic dermatitis need to be aware that some anti-mite fabric may feel uncomfortably 'hot'. An extra layer of a washable cotton quilted cover over the mattress may help keep the sleeper comfortable while absorbing perspiration. Cotton quilted mattress covers must be hot washed, or washed normally then dried in a hot tumble dryer every two weeks. This will prevent any travelling mites from finding a home.
Example of tightly woven fabric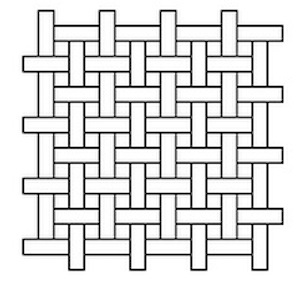 Thread count greater than 246 per square inch with a pore size of 6 microns is recommended
---
References
Anti-mite Covers: Potential Criteria for Materials Used Against Dust Mites. Vanna Mahakittikun , John Joseph Boitano Chulaluk Komoltri, Prapakorn Ninsanit, Teerapong Wangapai 'Textile Research Journal', 2009, 79: 436,443